Duct Cleaning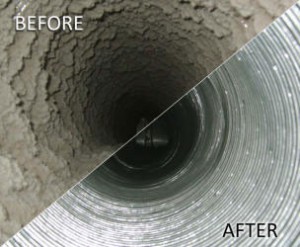 Call the experts at Accel Heating & Cooling for all of your duct cleaning needs! 314-541-4069
Accel will refresh your air ducts to put them in as like-new condition as possible. Only organic cleansers are used, safe for children, pets, and family members of all ages.
Our equipment and procedures are designed to remove allergens, dust mites, and bacteria from your air ducts.
Did You Know?
Indoor air pollution is ranked among the top 5 environmental dangers to the public. (EPA) The levels of some hazardous pollutants in indoor air has been found to be up to 70 times greater than in outdoor air. (EPA) Lost productivity due to poor indoor air quality is estimated to be approximately 60 million dollars. (EPA) Coil cleaning can save you up to 30% on your utilities. (US Department of Energy) Airflow problems can reduce your system's efficiency by up to 15%. (Energystar) A buildup of .042 inches of dirt on a heating or cooling coil can result in a decrease in efficiency of 21%. (EPA)
Accel Heating & Cooling's Duct Cleaning Service is designed to improve indoor air quality of your home or office.
Our cleaning processes can help improve the quality of your health by removing dust, pet dandruff, and more from the air. Removing these air pollutants can help stop the sneezing, coughing, and itchy eyes associated with allergies, but will also help reduce energy bills and prolong the productive life cycles of air condition unit itself. You will breath clean air, and your HVAC investments will last longer.
https://accelheatingandcooling.com/wp-content/uploads/new-accel-heating-cooling-logo-06.png
0
0
aus-admin
https://accelheatingandcooling.com/wp-content/uploads/new-accel-heating-cooling-logo-06.png
aus-admin
2015-09-09 15:53:45
2015-09-11 10:58:45
Duct Cleaning