Indoor Air Quality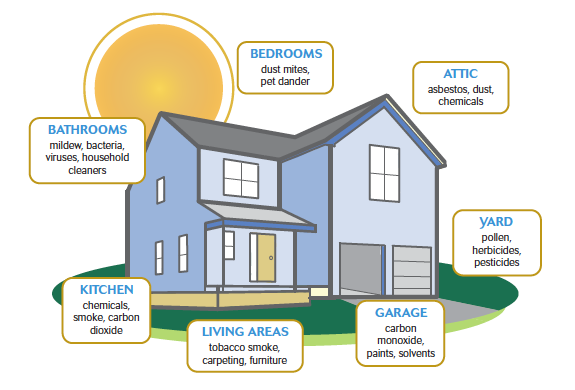 You would likely be surprised if you knew more about your indoor air quality, like how many pollutants/toxins you may have floating around your home or business. These pollutants/toxins include chemical vapors, microbes, mildew, viruses, bacteria, dust, dirt, pollen, allergens and more.
Accel Heating & Cooling can help clean up the air you and your family breathes.
The EPA discovered in a survey that Americans spend 87% of their lives inside, and that indoor air pollutant levels are up to 100 times higher than pollution levels found outside. Scary! Now think about the fact that you breathe an estimated 3,000 gallons of air every day. So do your kids. So does your Pug. Seriously, we need to stop taking indoor air quality for granted. It's time to make a change.
Signs and Symptoms of Indoor Air Pollution
Trouble breathing inside your home or business, more than outside
Worsening chronic respiratory symptoms, such as asthma, bronchitis, and emphysema
Fatigue, headache, dizziness, or confusion
Digestive or Nausea problems
Wheezing, coughing and other allergy-like symptoms
Here are a few signs to look for around your home that could point to indoor air quality problems:
Condensation on windows and walls
Moldy spots on home items or appliances
Central heating and air conditioning filters that quickly get dirty
Air with a stuffy or "off" smell
Your family needs to take steps to increase the quality of the air you breathe indoors. Doing so can:
Maintain your health. That's right. And actually, 50% of all illnesses are either caused or aggravated by polluted indoor air according to the American College of Allergists.
Reduce your energy consumption. How? Cleaner air improves how efficient your heating and cooling system is. Can you say "smaller carbon footprint" and "lower costs over time?"
Protect your investment. Enhanced air quality keeps heating and air conditioning components from corrosion, microbials, dirt and debris.
If you're a DIYer, you can definitely take steps to bump the air quality in your home. But even the most mechanically-minded homeowners can't do it all… and that's where Accel Heating & Cooling can help. With a complete offering of indoor air quality equipment choices, knowledge and expert service—for all makes and models, 24 hours a day—you can take relax and take a deep breath and know it's the highest indoor air quality possible.
https://accelheatingandcooling.com/wp-content/uploads/new-accel-heating-cooling-logo-06.png
0
0
aus-admin
https://accelheatingandcooling.com/wp-content/uploads/new-accel-heating-cooling-logo-06.png
aus-admin
2015-09-09 15:53:23
2015-09-11 11:01:36
Indoor Air Quality