Residential St Louis Air Conditioning Repair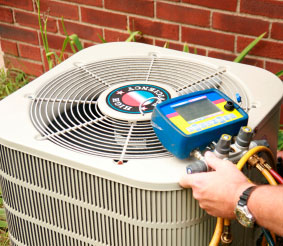 Need Air Conditioning Repair in St Louis, MO? Rest assured that you can count on Accel Heating & Cooling to be responsive and attentive to your cooling needs.
Accel's expert St Louis Air Conditioning Repair Technicians are Licensed and Insured in the State of Missouri, and we are an Accredited Member of the BBB with an A+ rating!  Accel Heating & Cooling Repair Techs can service most brands, makes and models of air conditioners.
Given the unpredictable nature of weather in St Louis, having the heating &  air conditioning experts at Accel Heating & Cooling on your side makes good sense. The last thing you want to worry about in the midst of a heat wave is your  air conditioning stop working. At Accel Heating & Cooling, we want you and your family to be comfortable no matter what the weather is doing outside, and we do all air conditioning repair correctly, the first time!
Accel Heating & Cooling Repair offers  fast, friendly, and qualified air conditioning service that assures your largest and most expensive home appliance works great when you need it most. We also offer air conditioning repair at flat rate pricing, with up front quotes and estimates, so there will be no surprise charges.
Our priority is serving your air conditioning needs

If your air conditioning system needs to be replaced, we will work with you to design the most efficient and reliable system possible that fits within your budget. Our philosophy is that quality work should carry a higher priority over a cheap price, and that is what you will get with Accel Heating & Cooling.
Here are a few other features to look for when pricing your new air conditioner:
A thermal expansion valve and a high-temperature rating (EER) greater than 11.6, for high-efficiency operation when the weather is at its hottest
A variable speed air handler for new ventilation systems
A air conditioning unit that operates quietly
A fan-only switch, so you can use the unit for nighttime ventilation to substantially reduce air-conditioning costs
A filter check light to remind you to check the filter after a predetermined number of operating hours
An automatic-delay fan switch to turn off the fan a few minutes after the compressor turns off.
Contact Accel Heating & Cooling today for Expert St Louis Air Conditioning Repair – 314-541-4069
https://accelheatingandcooling.com/wp-content/uploads/new-accel-heating-cooling-logo-06.png
0
0
aus-admin
https://accelheatingandcooling.com/wp-content/uploads/new-accel-heating-cooling-logo-06.png
aus-admin
2015-09-09 15:46:24
2016-11-15 11:02:52
Air Conditioning